Languages - March 2022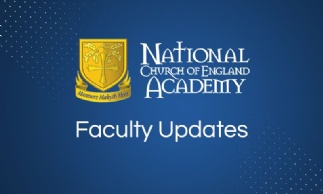 The languages faculty is continuing to promote effective communication within the school and as a faculty are focused on the skills of reading, writing, speaking and listening.
It has been a pleasure this year to establish theatre trips for year 7 and 180 year 7 students attended a performance of Treasure Island at Derby Theatre. The performance was a mix of song, dance and it was fabulous to enjoy live theatre again with the students so hopefully there will be more of this to come.
Reading is at the heart of the language's curriculum and all key stage three students have the opportunity to read at the beginning of their English and literacy lessons. We use the Accelerated Reader Programme to ensure our students are all reading appropriately challenging texts and Mrs Prestwood continues to monitor and celebrate the achievements of our students as we strive for word millionaires. We continue to enjoy a fully stocked library and Mrs Prestwood is constantly refreshing our stock to ensure our students have access to a wide range of engaging texts. We also have the opportunity to request books from the library service so students are encouraged to ask their teacher or Mrs Prestwood if there is something they would like to see on the shelves that we currently do not have.
Reading for pleasure is a gift everyone should enjoy and during our reading lessons staff actively engage with students about their reading habits and their likes and dislikes to model how reading is individual and we all like different things when read. We try to support students in finding the right book and we do encourage parents and carers to discuss their reading with their child and to use the Renaissance home connect to see how their child is getting on with the accelerated Reader programme.
As part of the curriculum, all year 7s have had the opportunity to read The Hunger Games and have really enjoyed the dystopian novel and getting to know the characters of Katniss and Peeta as they strive to become victors against all the odds. Year 8 have had a gothic treat with the playscript of Dracula developing an understanding of how scripts develop content differently to the novel and year 9 have explored rebellion in their study of Lord of the Flies as an island without adults descends into chaos.
In the modern world where technology dominates, it is important as a faculty we recognise moving image and how as consumers we digest text in new and evolving mediums and therefore explore how language in everyday situations influences us as readers and how we distinguish fact and understand bias in all that we consume and read. It is also interesting for students to explore in drama how casting and interpretation influences how much we enjoy a text as it is changed from page to screen.
Get in touch…
If you have any questions about the languages curriculum, ways for students and parents to get involved, or would like to ask about extra-curricular opportunities, please drop Miss Hunt, our faculty head, an email at: chunt@nationalacademy.org.uk.