Gold SMSC Award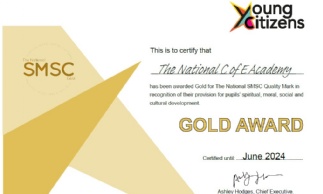 The National Church of England Academy are pleased to announce that we have achieved the Young Citizens Gold Award recognition for excellence in SMSC- Spiritual, Moral, Social and Cultural development.
SMSC encompasses personal development across the whole curriculum and there is strong evidence to show that promoting SMSC contributes to raising academic standards and improving children's life chances. SMSC is delivered both in and outside of the classroom. Whilst religious studies and personal development cover some distinct areas such as crime and consequence, democracy, and media and the news, all subjects contribute to its delivery, making it a core part of our curriculum.
The National Church of England Academy's vision statement is 'Life in all its fullness' (John 10:10) and as a result we place great importance on developing the whole student, not just focusing on academic excellence. Therefore, we aim to promote SMSC throughout all aspects of academy life. This goes hand in hand with our Christian distinctiveness lived out through our ARCH values.