[OLD] Year 6 Open Evening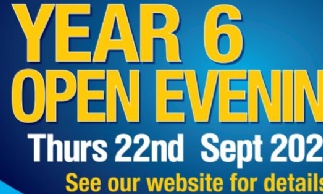 You are invited to join us for a presentation at 6 pm or 6.30 pm followed by an accompanied tour of our academy. Please book a ticket in advance as spaces are limited.
This event is open to current year 6 pupils who will be starting their secondary education in September 2023. The presentation and tour will enable you to meet members of the leadership team, key members of staff, experience our facilities and gain insight into our values and school community.
To book a ticket please click here.