HSFC Open Evening Resources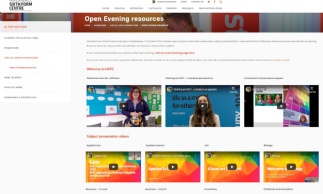 For our year 11 students who have booked on to the Virtual Open Evening at Hucknall Sixth Form Centre, they have posted a number of videos for you to watch ahead of the event.
Ms. Cliffman welcomes you to the centre, together with current students giving you an insight into studying and social life there! Most importantly, teaching staff have recorded presentations about their subjects to help you decide which courses are right for you.
Go discover the range of courses here: https://bit.ly/33AeqPu
If you have not yet booked your place at the event, there is still time. Details of how to book can be found on the same page.
Twitter
For anyone who has booked @hucknall6thform Virtual Open Evening on 13 October, see their range of subject videos to help you choose your courses: https://bit.ly/33AeqPu
If you haven't booked your place, details can be found on the same page.
We hope you find the event useful!