Uniform is a very important aspect of being a student at National Church of England Academy and we have high expectations about the standard of dress for all students. The general principle of this is that if the attire would not be appropriate professional wear in a business environment then it would not be appropriate for National students.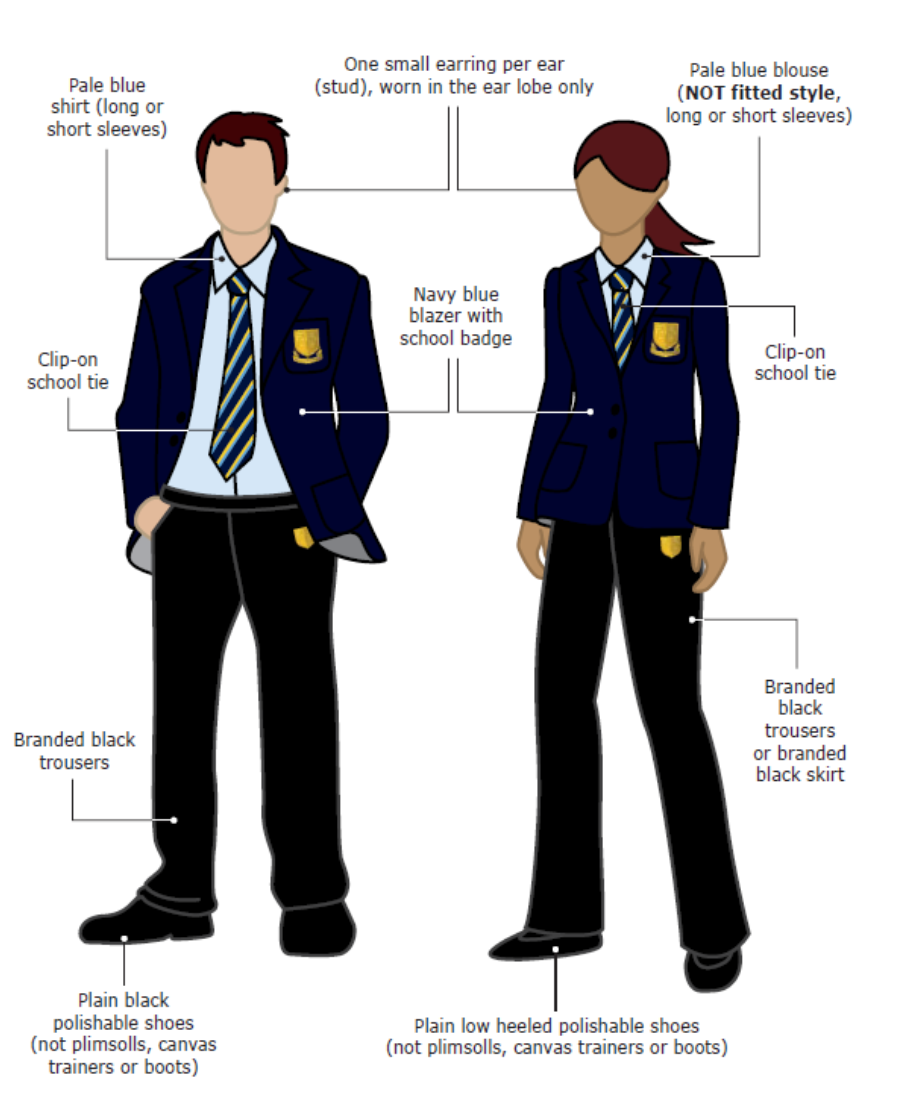 Uniform:
Navy blue blazer with academy badge.
Pale blue shirt (long or short sleeves).
Clip-on academy tie.
Branded black skirt or branded black trousers.
Plain, low heeled polishable shoes (not plimsolls, canvas trainers or boots)
Outerwear:
Must be worn over the academy blazer.
High visibility clothing for safety, in winter, or on bikes is actively encouraged.
Hooded tops are not permitted and will not be acknowledged as a coat.
Jewellery, hair, make up and nails:
Rings are not permitted.
One small earring per ear (stud), worn in the ear lobe only, which must be removed for PE.
Other piercings are not allowed.
One wrist watch is permitted (not a smart watch). Watches must be removed for PE.
Hairstyles must not attract undue attention to an individual and must only be natural colours and mainstream styles. Staff discretion will apply.
Lightly applied natural looking make up only and single colour nail polish only.
Artificial nail coverings of any length or type are not permitted. There are health and safety concerns associated with these, especially regarding physical activity.
PE Uniform
Navy/sky reversible rugby shirt with academy logo OR navy/sky/white hoodie shirt with academy logo.
Navy jogging bottoms with academy logo.
* Plain, unbranded navy jogging bottoms may be worn due to restrictions with changing rooms in light of Covid 19. This will be reviewed on a six weekly basis. NCEA branded PE hooded tops are permitted on the days that students have PE but must not be worn on any other day.
Navy/sky sports socks.
Navy/sky shorts or skort with academy logo.
Navy/sky/white polo shirt with academy logo.
Trainers and football boots.
Important health and safety equipment:
Students must have shin pads and gum shields.
Valuables:
To prevent loss, please avoid bringing valuables.
Make sure you keep purses, keys, etc. with you at all times.
Name/label all personal items.
Mobile technology: all forms of mobile technology, including smart watches, are not permitted.
Any items that are not on this list are not permitted in the academy.
Suppliers and stockists
To enable families to have wide choice of where to buy uniform items from, we work with three local suppliers; Schoolwear Solutions in Mapperley, together with Hucknall Sports and Price & Buckland based in Hucknall.
Schoolwear Solutions do offer the facility to order via their website: www.schoolwearsolutions.com together with all suppliers offering families the chance to visit their shop and try on the individual items.